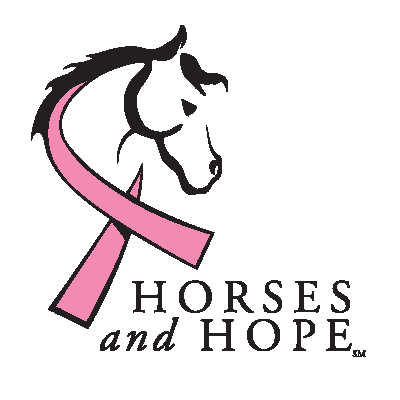 Horses and Hope
What began as a love of horses led to a unique and successful partnership with former First Lady Jane Beshear, the Kentucky Cancer Program, and Kentucky's horse industry. Since 2008 Horses and Hope has been providing breast cancer awareness, education, screening, and treatment referral services to a wide variety of groups. These groups have included people attending racing events, horse industry workers (especially medically underserved women and their families who work on the back side of the tracks and regional horse farms), rarely and never screened women living in rural areas, and breast cancer survivors.
KCP has had a long history of working on breast cancer awareness initiatives with Kentucky First Ladies. Former First Lady Judy Patton created the State Breast Cancer Coalition and Celebration of Hope, an annual Derby week gathering to honor cancer survivors and increase breast cancer screening awareness.
Mrs. Beshear took these initiatives to a new level by creating a public-private partnership with the James Graham Brown Cancer Center, KentuckyOne Health, and the Kentucky Cancer Program to support a Horses and Hope Cancer Screening Van that will provide prevention and early detection services for both men and women. In addition to breast cancer, six other cancers will be addressed (cervical, colon, lung, prostate, skin, and head/neck) .
For more information, visit
Horses and Hope
.
Horses and Hope Pink Race Days
These events are held at Churchill Downs, Ellis Park, Keeneland, Kentucky Downs, and Turfway Park race tracks annually to raise breast cancer awareness, provide education, and support survivors. Activities include a race dedicated to breast cancer awareness, educational exhibits, distribution of breast health and screening information, and brief one-on-one educational interventions.
During the Pink Race Day, a special event is held to recognize breast cancer survivors, provide information about the importance of continued breast cancer screening, and encourage utilization of community support resources.
Outreach and Education to Horse Industry Workers
Bilingual outreach workers provide brief one-on-one interventions, group education, and screening referrals for horse industry workers at race tracks, training centers, and horse farms. KCP also participates health fairs at the race tracks for track/farm employees and their families.
Screening
Annual mobile mammography screenings are held at the race tracks to facilitate breast cancer screening and follow-up for medically underserved, uninsured, and minority women who work at the race tracks and surrounding horse farms.
Outreach and Education to Rural Women
Partnerships are formed with community organizations such as health departments, coalitions, faith-based ministries, senior centers and Cooperative Extension to sponsor educational events. Women attending the event are educated about breast cancer and challenged to reach out and encourage women in their communities who are non-compliant with screening guidelines to get screened. Attendees also receive screening reminder cards on their birthday.
Adventure Weekends
Fun-filled weekend retreats at Kentucky State Parks offer women surviving cancer a memorable and inspirational experience. Women are encouraged to adopt healthy lifestyle behaviors and become advocates for others facing the cancer journey. Sponsored by First Lady Jane Beshear, Commissioner Elaine Walker, and the Kentucky Cancer Program, weekends are held in state parks in both eastern and western Kentucky. For information, call KCP at 606-679-7204.
Trail Rides and Special Equine Events
Horses and Hope sponsors trail rides at the Kentucky Horse Park and other locations across the state. The events are hosted by First Lady Jane Beshear and an educational exhibit provides information about breast cancer awareness and screening. Horses and Hope also provides educational exhibits at special events such as the Lexington Jr. League Horse Show and the ROLEX Kentucky Three Day Event.