The Kentucky Cancer Program (KCP)'s network of cancer control specialists serves all the state's 120 counties through 13 regional offices. For nearly 40 years, KCP has been a resource for the public, patients and their families, survivors, health care providers, and community organizations. Our mission is to reduce cancer incidence and mortality by promoting cancer education, research and service programs. Please see our latest biennial publication for highlights from KCP's work from the past two years.
---
Regional Cancer Control Specialists
KCP operates through a team of Regional Cancer Control Specialists working from 13 regional offices to provide local leadership for cancer prevention and control planning, implementation and evaluation for all 120 Kentucky counties. As residents of the regions they serve, the specialists have a thorough knowledge of the people and cultures of their communities.
KCP provides a variety of cancer programs and services in collaboration with national, state, and local organizations to:
Increase awareness of cancer prevention and risk factors.
Increase cancer screenings and early detection.
Increase access to cancer treatment and care resources.
Improve the quality of life for cancer survivors.
District Cancer Councils
Regional Cancer Control Specialists work with community organizations/groups and District Cancer Councils (DCCs), aligned with Kentucky's 15 Area Development Districts, to identify and address district cancer problems and issues. The DCC is a voluntary advisory group focused on cancer prevention and control at the district and community level. The purpose of DCCs includes:
Identifying and addressing community cancer prevention and control needs;
Sharing community best practices;
Encouraging collaboration and coordination;
Promoting cancer prevention and control activities and resources.
In addition, the DCC serves as an opportunity for the exchange of information regarding cancer-related activities among representatives of different professional health disciplines, institutions and agencies within the district.
The Kentucky Cancer Program works closely with:
Kentucky Cancer Registry to provide local cancer data, identify and prioritize community cancer needs and develop interventions/solutions.
Kentucky Cancer Consortium to implement Kentucky Cancer Action Plan strategies and coordinate comprehensive cancer control at the district and local level.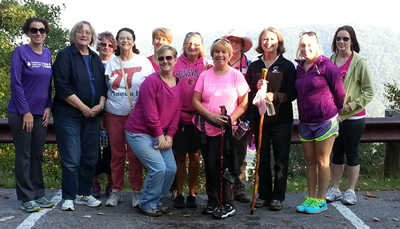 Community Partnerships
Collaboration is at the heart of the Kentucky Cancer Program. The development of community capacity, mobilization of resources, and engagement of local organizations in planning, implementing and evaluating cancer prevention and control activities/programs is accomplished through the establishment of partnerships. Regional Cancer Control Specialists support the development of partnerships by:
Providing resources

Educational materials, toolkits, exhibits, website, dermascan, Incredible Colon, etc.
Mobilizes resources (financial and in-kind) to support community cancer prevention and control programs/activities

Coordinating district and local comprehensive cancer control

Establishes, builds and maintains relationships
Links partners together and identifies opportunities for collaboration
Provides information and cancer data
Supports organization and coalition related activities
Promotes utilization of evidence-based and best practices interventions

Providing assistance with cancer related activities

Planning and evaluation
Tailoring materials and programs to geographical area and population
Messages, materials and programs