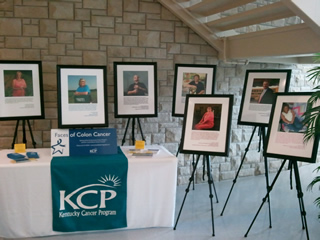 Faces of Colon Cancer
The Kentucky Cancer Program developed a photo exhibit in collaboration with District Cancer Councils and survivors to spread the message that colon cancer screening saves lives. Colon cancer is the second leading cause of cancer deaths among Kentuckians, but it is highly preventable.
Called "Faces of Colon Cancer," the exhibit includes photos and brief personal statements from nine survivors in Northern, Central, and Eastern Kentucky area development districts. Photographer Tim Webb donated his time to take the pictures. The exhibit consists of:
Nine framed 12" x 18" laminated foam core panels, each with a survivor photo and quote about his or her cancer experience.
An 18" x 10" title panel that reads: Faces of Colon Cancer / Presented by the Kentucky Cancer Program and Your Local District Cancer Council.
Eleven lightweight easels that can be set up as free-standing or desktop. Ten easels are for the photos and one is for the title panel. In addition, each photo has a hanger.
A table top display with educational information about colon cancer and screening.
For more information about sponsoring an exhibit and helping to reduce colon cancer in your community, contact your Kentucky Cancer Program regional cancer control specialist.